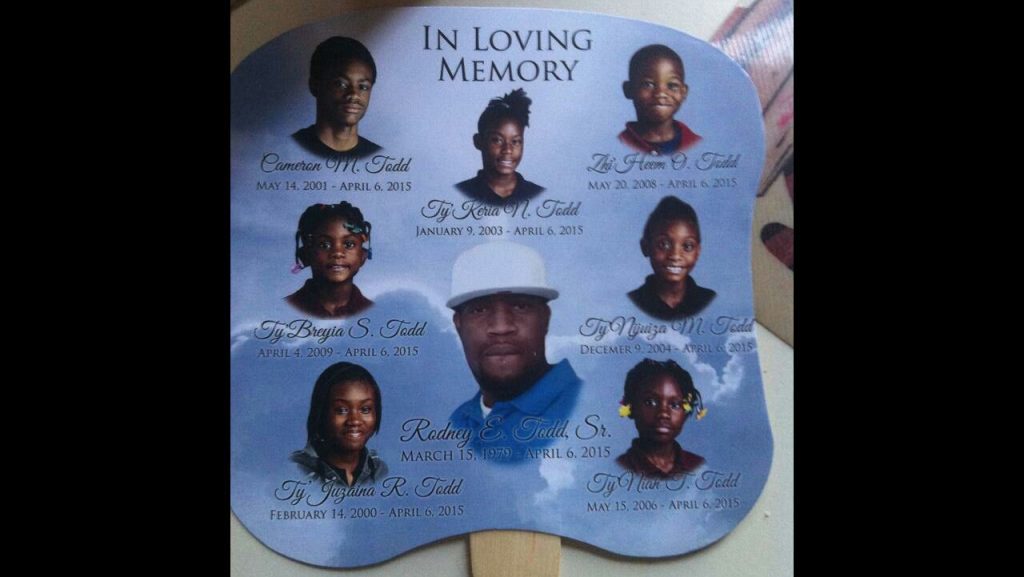 By Paul Jay
The world has heard the names of George Floyd, Freddie Gray, Oscar Grant, Michael Brown, and many others who were brutally murdered by police officers steeped in a culture of racism and demonization of the poor.
The justifiable rage expressed by protestors across America is now resonating with tens of thousands of others around the world marching in support.
Rodney Todd is another name everybody should know. It's the fifth anniversary of the deaths of Rodney and his children, victims of another form of murder.
Mr. Todd lived in Princess Anne, a city about 130 miles southeast of Baltimore. Family and friends described Rodney as a devoted parent and a disciplined, hard worker. He was employed at the University of Maryland Eastern Shore.
Rodney couldn't afford to pay an electric bill and had been cut off by the Delmarva power company. He bought a propane generator to give some light and his children warmth. Why he ran the generator inside the house isn't clear. People speculate it was because it was noisy and would have kept his neighbors awake at night.
Rodney Todd and his five young girls and two young boys died of carbon monoxide poisoning. They were last seen alive on March 28, 2015.
The media reports focused on whether the power company had illegally shut off Rodney Todd's power. In Maryland, during winter months, non-payment of a bill is not supposed to be legal cause for cutting the cord. The power company said it was a safety issue because an unauthorized meter was in use. Some reports said this may have been installed by the landlord. The power company said Rodney never tried to set up an account.
While it's criminal – or at least it should be criminal – to shut off power to a family under any circumstances, it's even more criminal that a working father can't afford to pay an electric bill. Rodney Todd, an African American worker, was paid $8 an hour for a full-time job. That was the minimum wage in Maryland in 2015. He was supporting seven kids on $8 an hour. The previous year the minimum wage of $7.25 per hour. Rodney was a single parent divorced from the children's mother. He had full custody of the kids.
What the major media didn't ask is, why was Rodney working for $8 an hour? When Baltimore exploded after the death of Freddie Gray, CNN and other media outlets, when they weren't accusing the protesters of being thugs and criminals – which was most of the time – paid lip service to the fact that the underlying conditions of poverty and the savaging of communities by drugs, helped create the anger expressed on the streets of Baltimore. They should have added, but didn't, the immeasurable destruction of people's lives by the federal government's "war on drugs."
What they also didn't ask is why poverty in Baltimore and cities across the country is chronic.
Why did Rodney Todd accept work for $8 an hour? Because people are desperate for jobs, and the more desperate workers are, the lower the wages they are willing to accept, putting more money into the coffers of business owners.
Why are communities in Baltimore and across the country faced with chronic drug addiction and gang warfare? Desperation creates the need for escape, and instead of developing policies to treat addiction as a health problem and bring an end to poverty, there are enormous amounts of money being made out of the senseless war on drugs.
In Baltimore and many other cities, the mass incarceration system, police, lawyers, and judges, to a large extent depend on the "war on drugs" for their livelihoods. There is an unholy alliance between organized crime and the judicial and penal system who all benefit from a drug policy that victimizes the victims.
The for-profit bail bonding industry alone is a multi-million-dollar business, backed by massive insurance companies and trade associations with the money and political power needed to shape the criminal justice system in their interests.
In the Baltimore City Detention Center, a prisoner is not allowed a visit for 60 days, except by a lawyer. No family, no friends. And If you're represented by a public defender, you're likely not to see them again until a few days before you go to trial. What does this create? People in a violent, terrifying environment, desperate to pay bail bond agents to get out of a hellish prison.
It's rather obvious now that the Federal Reserve has created trillions of dollars to bail out big banks and corporations, that chronic poverty could have ended years ago. But that wouldn't have been profitable.
"Law enforcement officers", their name says it all. Police are enforcing laws, often with deadly force, to make citizens obey legislation that at its heart protects people who own property. The more you own, the more you're served and protected. When police use violence, they do so as agents of a legal system that must keep a lid on people who fight back against desperate conditions. Whether they fight back blindly and self-destructively, or more consciously and politically, the elites have passed laws to keep poor people in their place.
American police force culture was born in a society that waged genocide against indigenous peoples and protected a slave system. Most police officers succumb to the norms of training that leads to seeing the poor as animals to be controlled, and poor people of color even more so.
There is much talk these days about systemic racism. This is not just a set of attitudes that hang in the culture like a poison that can be eradicated by education and better training. Capitalism dehumanizes those it exploits the most, and police are imbued with such attitudes. Undoing systemic racism must start by undoing the super exploitation of people of color and changing the fundamental mission of police.
People living in desperate conditions will fight back desperately. Sometimes self-destructively. In Baltimore in 2019, there were 348 murders, almost one per day. That compares with 300 murders in New York City, 13 times the size of Baltimore. Most of the people who are killed are poor black people. Baltimore is a very safe city if you're white.
If you ask people in impoverished areas, what is the number one thing that they want, the answer's always jobs. Lack of being able to make a dignified living is devastating their lives.
The majority of Baltimore does go to work every morning. Sometimes they go to work again in a second job. They fight tooth and nail to get their kids to school and hoping their kids will do better. And many are making the minimum wage that led to the despair of Rodney Todd and the death of his seven children.
I asked a veteran Baltimore cop, a black man, what do you think of all the police abuse? He said, "Well, what do you want . . . you want us to be the hammer, or you want us to hand out flowers?"
The top one percent holds over $25 trillion in wealth, which exceeds the wealth of the bottom 80 percent. That is more than all the goods and services produced in the U.S. economy in 2019.
According to a Brookings institute study (Six facts about wealth in the United States):
In 2018, U.S. households held over $13 trillion in assets. For context, that is over five times as much as all the goods and services produced in the U.S. economy in a single year. If that amount were divided evenly across the U.S. population of 329 million, it would result in over $343,000 for each person. For a family of three, that's over a million dollars in assets.
Almost three-quarters of aggregate household assets are in the form of financial assets—namely stocks and mutual funds, retirement accounts, and closely-held businesses. Real estate makes up the vast majority of non-financial assets.
The process of financialization of the economy has concentrated the majority of wealth into management by the finance sector. Financialization produced two shadow banks that tower over the rest of the corporate world. Blackrock and Vanguard, with other smaller money management firms, control 90% of the S&P 500 public companies, including fossil fuel companies, arms manufacturers, and major U.S. media outlets that own 'mainstream' news.
The top three financial services firms manage 15 trillion dollars of assets, more than the GDP of China and will within a decade, surpass the GDP of the United States.
Rodney Todd's electricity was cut off by Delmarva Power, which is owned by Exelon Corporation. Eighty per cent of Exelon is owned by financial institutional investors. The top five shareholders include Blackrock and Vanguard.
Concentrated ownership of wealth creates concentrated political power – the majority of the political class are bound to the very rich. The large financial institutions dominate the economic policy of governments at all levels. Look at the revolving door from Wall St. to the Treasury Department under administrations of both major parties.
Much of the wealth of the top percentile depends on cheap labor at home and abroad. Defense of this system of ownership and power is the core mission of police departments and other coercive agencies of the government.
Instead of economic and political democracy, establishment politicians talk flowers while the police are asked to be the sledgehammer.
There are families all over the world like that of Rodney Todd. With the economic depression triggered by the pandemic shutdown, millions of people that never dreamt that they would live in poverty, are sinking into exactly that. We have a choice. Move to new forms of democratic ownership and distribution, or face bludgeoning by a police state.
The way to solve chronic poverty is to have public policy that most elites don't want, like higher taxes on the rich to finance the reconstruction of neighborhoods and schools; publicly-owned banks that break the power of Wall St.; publicly owned enterprises to create jobs and raise wages; community control of police departments (not just review); democratization of the legal and incarceration systems; ending the war on drugs, and so on. There is no shortage of policy proposals, just the political will to implement them.
The solutions are obvious, but it requires a broad multi-class and multi-racial mass movement that demands economic and political democracy. We are witnessing its birth now, in cities around the world. The movement is finding ways of sustaining itself and raising demands to imagine new ways of living together. Its leadership must be working people, conscious of the greater task.
Whether it's systemic racism, poverty and inequality; climate crisis or the threat of militarism and nuclear war – in the streets and at the ballot box – such a movement will determine if we have a future.