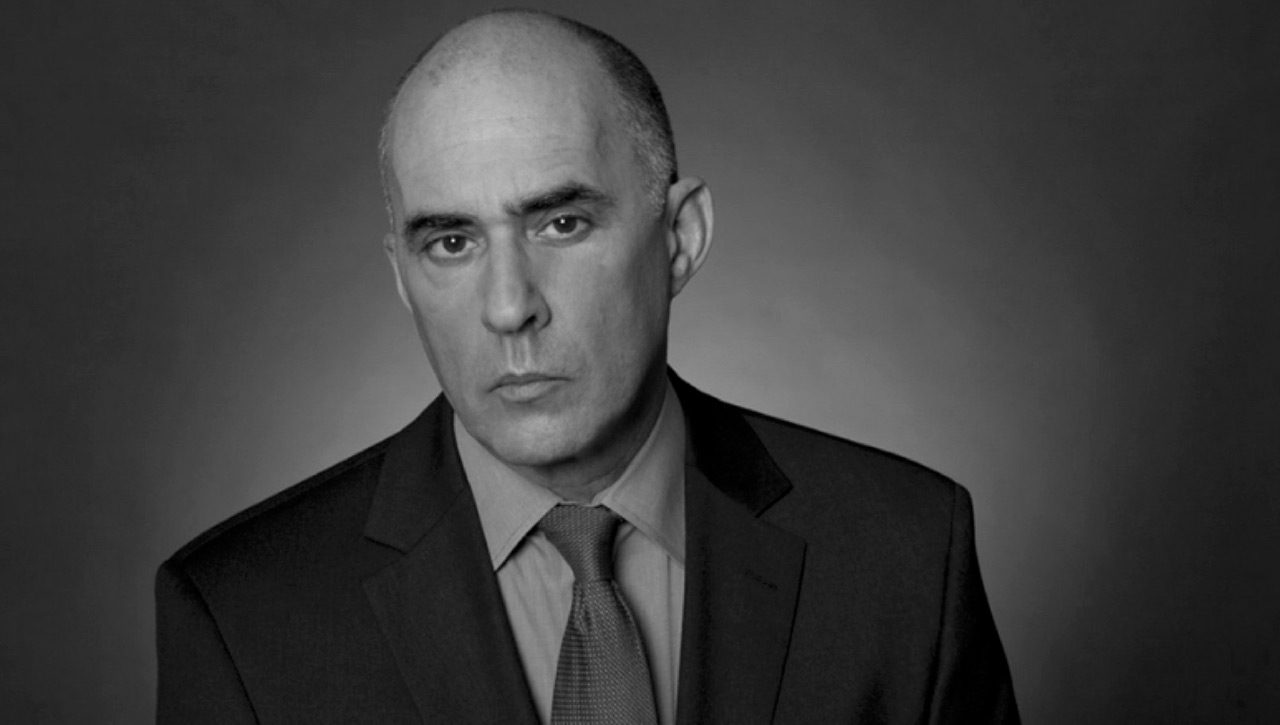 By Paul Jay
The pandemic spreads havoc and death around the world, and the naked truth is there for all who are willing to open their eyes. The system breeds depravity.
The "Lords of Finance", who wield vast power, find ways to make a killing on volatility in the stock market, while health care workers risk their lives and tens of thousands die. Unemployment is destroying families and throwing millions into poverty. The federal support programs are mostly slush funds for the banks and large corporations and will do little to alleviate the suffering of the majority of people.
Bernie Sanders made a valiant attempt to launch an insurgent campaign to win the nomination of the Democratic Party. His battle helped create a movement across the country that has great potential. Inspired by Sanders, many progressives have run for and won office. He defied cold war hysteria and sparked a discussion about socialism. Very importantly, he acknowledged and denounced the billionaire class, something the Democratic Party establishment will never do.
In the end, the progressive mass movement was not at a sufficient level to successfully challenge the power of the elites. Objective conditions create mass movements; they can't be organized or wished into existence. Before Covid-19, as the primaries were held, the economy appeared to be robust and enough people were doing well enough to avoid social unrest. Fear of Trump and a full court press against Sanders waged by the Democratic Party establishment and its media allies, made people reluctant to break from conventional politics. It swung the vote to Biden.
Now, as the country settles into deep depression, conditions for the rise of a broad people's movement might develop. Mass unemployment could spark spontaneous resistance. But without organization, uprisings cannot be sustained and have little direction. I saw this firsthand during the Freddie Gray protests in Baltimore. Will progressives and socialists be ready for it?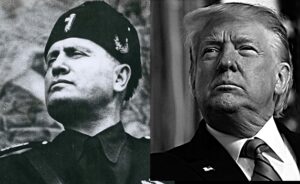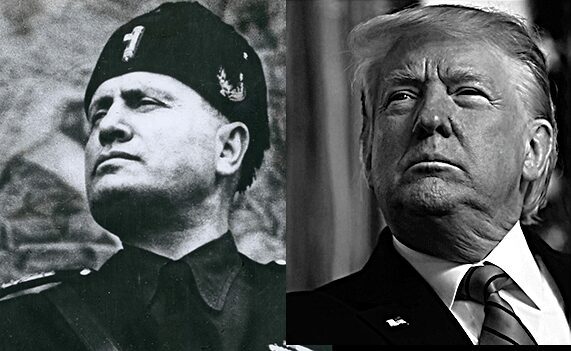 The Trump presidency is a cabal of criminals, militarists, and far-right billionaire ideologues and has the support of significant sections of the oligarchy. It is a threat to our very existence.
Trump is a Mussolini type character; his make America Great Again echoes Mussolini's Revolutionary Nationalism. The Republican Party are outright gangsters that are more than willing to support a move to an anti-worker, racist police state as a response to the crisis.
It's not all about the person of Trump. Finance, fossil fuel, and the military-industrial sectors are willing to risk the end of human civilization to maintain their return on investment. It's their nature; it's how the system works; they really can't do otherwise. A progressive government must force them to stop gambling with our lives. That starts with the defeat of Trump.
Joe Biden will be the candidate of the Democratic Party, and progressives will have to find a way to defeat Trump without creating illusions about the liberal face of the billionaire class. Sanders had to give a more fulsome endorsement of Biden to maintain some influence inside the party and help to defeat Trump. I don't think Sanders supporters need to stop their class critique of Biden and the Democratic Party corporate leadership. That said, there is no way to defeat Trump without voting for Biden.
Will Biden be different than Trump? He can be expected to be as least as rational as the Obama administration. That's saying something given the madness in the White House. Biden was for the Iran nuclear deal, and it's been reported that he was opposed to the massive investment in nuclear weapons that Obama supported. He supported dropping sanctions on Cuba. Biden will advance modest economic reforms that will benefit people and will take some steps, even if far too limited, to deal with the climate crisis.
Biden will need progressives to get elected, but will he ignore them once he is president? Probably. Almost certainly. Obama handed the reins of the economy to Wall St. and the gross inequality that grew during the Obama/Biden administration set the table for the election of Trump. Will a Biden administration do the same? Probably. Almost certainly.
He'll do this not because he's a bad guy. Sanders and others say he's a decent man, and on a personal level, let's assume they are right. People sometimes do evolve, and perhaps this version of Biden believes the appeals he's making to Sanders voters. But the system will assert itself, whatever Biden's character. The financial-military-industrial complex will wield their many levers of power, and Biden will accommodate them.
If Biden wins the election, the only force that can mitigate this subservience to the oligarchy is a popular movement on a larger scale than the anti-war movement of the '60s. It has to be better organized and more conscious. It will be demanding jobs and defense of the rights of the unemployed, workers and the poor; racial justice; effective and urgent solutions to the climate change crisis; and hopefully a cancellation of the trillion-dollar investment in nuclear weapons and treaties to phase the weapons out altogether.
It must demand the wartime effort that's should be waged during the Covid-19 crisis be transitioned to an urgent and massive effort to implement a demilitarized Green New Deal. Use the moment to force a conversion of fossil fuel to sustainable energy, and military production to green production.
Will the pandemic crisis wake up the American working class? It's way past time for trade unions to stop playing such a slavish role in the Democratic Party, and just maybe a progressive insurgency in the unions will succeed.
Remember, the anti-war movement was born during a Democratic Party administration. Could Biden, faced with such a movement, act more like FDR of the '30s? Could a conscious movement take reforms further than that?
Without such a movement, in spite of Biden's promise to be "the most progressive administration since Roosevelt", he is far more likely to be Obama act two.
President Don the Con is posturing as a wartime president fighting the invisible enemy, and we are supposed to close ranks. That won't work as the truth about his anti-scientific response to the virus seeps even to his base. Perhaps a few of his supporters will also realize that pandemic and climate denial have much in common. But watch out for an attack on Iran, a more serious attempt by Trump to be a wartime president in the lead up to the 2020 elections – assuming there are elections. Watch out for a false terrorist attack used to justify such a war. The tactic has become an American tradition, and war is frequently the elite's answer to an economic crisis.
As resilient as capitalism has been, I don't think this world order is sustainable. The elites are no longer willing or capable of dealing with grave systemic threats, even when it is in their long-term interests to do so.  They will prove unwilling to deal with terrible the unemployment the pandemic will leave in its wake. Still, capitalism will survive the pandemic. We won't survive the threats of climate change and nuclear war.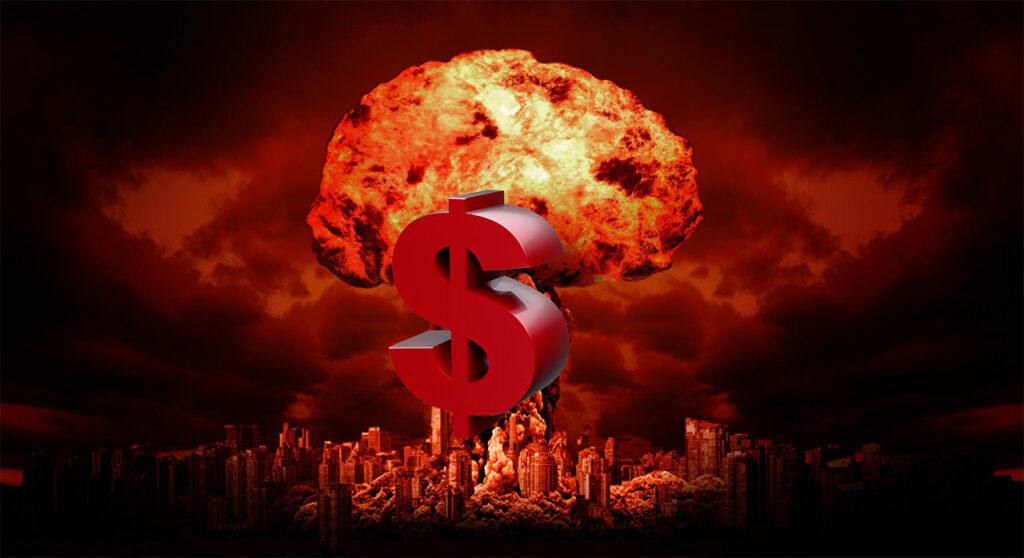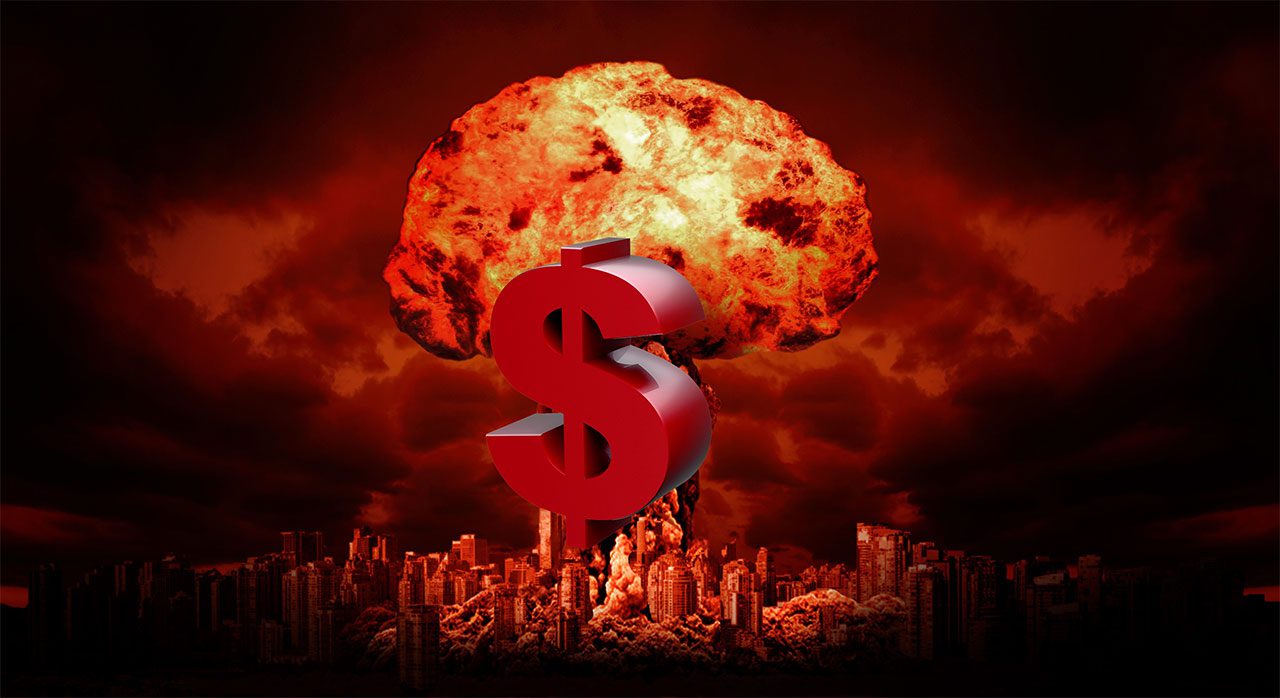 Nuclear weapons posed an existential threat before, but at least the elites understood that ending human life on earth wasn't in their interests. Treaties that somewhat reduced the number of weapons, are now thrown in the dustbin. As insane as the prospect of nuclear war is, Russia and the U.S. have not given up their deteriorating hair-triggered atomic arsenals, and Trump and the Pentagon contemplate the use of localized atomic weapons.
A new nuclear arms race is in full flight. First Obama and now Trump passed budgets that spend a trillion dollars over 30 years to modernize the nuclear weapons arsenal. Russia is doing the same. The Pentagon seriously contemplates war with China, and Trump's advisor Steve Bannon openly calls for a military confrontation in the South China Sea.
Nuclear weapons production is a very profitable business. Like most other major sectors of the economy, it is mostly owned by the same large financial institutions that own almost everything else. See my article "Three Investment Banks Control More Wealth Than GDP of China – and They Threaten Our Existence".
While it's unlikely that the elites will deliberately launch nuclear Armageddon, we are living in denial if we think that an accidental war isn't likely. As tensions rise with Russia and China, this becomes more possible. The hair-trigger policy means there are around ten minutes to decide if what looks like an attack is one or is a glitch in the software. It's a cold war posture still in place in the United States and Russia; it's Dr. Strangelove's Doomsday Machine.
Religious fanatics may get hold of small nuclear weapon, attack a U.S. city and welcome their ascent to paradise. A terrorist bomb could be misunderstood as an attack from a major power and trigger a wider war. Similar zealots, who welcome the apocalypse, are found throughout the U.S. armed forces, including at the highest levels.
Many experts believe without a radical reduction in the number of nuclear weapons, and eventually, the elimination of such weapons, such a war and the end of life on earth, is inevitable. They think it's a miracle it hasn't already happened.
Let that sink in. A 100% chance there will be a nuclear war that ends most life on earth. It could happen any day. Many of us condemn Trump's anti-scientific pandemic and climate denial. Are we doing the same by ignoring the threat of nuclear war?
One would think it's in the interest of the elites themselves to deal with the nuclear threat. But the financial-military-industrial complex has far too much invested in a narrative that depends on a significant existential rival.  American capital will not give up its dominant global commercial position they believe depends on their military might. Nuclear weapons production is also a very profitable business. The financial-military-industrial complex risks Armageddon for the sake of commercial return.
I understand that it's hard to consider such things during this deadly pandemic. But this is precisely the time to raise these issues as people should consider whether they trust a class, that couldn't prepare for a terrible flu, to manage the nuclear arsenal. On this point alone, one can argue the billionaires are not fit to rule. But of course, there is more.
You would think the elites would find it in their interest to take action on the climate crisis, given the catastrophic consequences of denial or a feeble response. But effective policy requires taking on the fossil fuel industry and committing to a green and sustainable economy. It requires strengthening the role of the public sector and democratizing the political process. Now, even modest reforms are almost impossible to pass at the federal level, as most of the elite care more about lowering taxes than saving the planet.
Why can't the ruling elites deal with the systemic threats of climate change and global war? Threats to the future of their own system?  Because they have been in an orgy of profit-making. The digital revolution and financialization made them rich beyond imagination; they can't believe their good fortune. Denial comes naturally.
These are the forces that put short term returns on capital ahead of preparing for a pandemic and creating the infrastructure for quickly creating vaccines. A pandemic they were warned about.
Those individuals in the elites who do see what's coming and are trying to sound the alarm – and there are more than a few – are marginalized and have less and less political clout. A robust popular movement will have to find ways to include them without ceding leadership.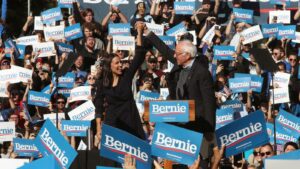 With Sanders, AOC, and other progressive campaigns, we've seen the shape of things to come. It's something substantial to build on.
We must strengthen the popular movements that are fighting to elect governments at the state and local levels that battle to democratize politics and win economic power. At the federal level, such a government must reduce and then eliminate nuclear arms. It must take swift and bold action to deal with the climate crisis. On a wartime footing, it must implement a Demilitarized Green New Deal.
Attempts to regulate finance, fossil fuel, and other critical sectors of the economy have failed. A popular government must develop many forms of public ownership to counter the political power of the billionaires' concentrated ownership.
Breaking up the big banks is far from enough. One way to build popular economic power would be to create publicly owned banks on a broad and commanding scale. A place to start could be to buy a controlling interest in Blackrock and Vanguard, the two largest asset management companies. Between them, they control most of the S&P 500, including all the largest banks. A major bank could be bought outright, something that should have been done during the 07/08 crash. Fossil fuel corporations can be bought out and closed down. Creating a publicly owned Walmart and Amazon that competes with the private sector would give tremendous leverage.  Put the profits into higher wages and public interest investment rather than the pockets of a few billionaires. In British Columbia, public auto insurance put profits into the public treasury.
Imagine if Lockheed Martin and Raytheon were public owned, what an affect that could have on U.S. foreign policy. Take the profit motive out of war. Why should working-class kids die to "defend the American Way" while the wealthy profit from it?
Oh yea, that is the American Way.
Too much concentrated economic power, even if public, can be dangerous. This concept works if there are diversified forms of public ownership, dispersed between the federal government, cities, states, co-ops, and nonprofits.  Small private businesses can work with public motherships that provide expensive infrastructure. I had a Canadian production company that had such a relationship with the publicly owned Canadian Broadcasting Corporation when I produced a daily debate show.
This sector of publicly owned businesses could compete with the private sector and prove to people that it works. They would be unionized, the wages significantly higher, and would have a public interest mandate to produce in a green and sustainable way. There are many publicly owned large enterprises in many countries that are more efficient and as well organized as anything private.
Artificial Intelligence will make managing all this possible, so gradually, more planning can coordinate the supply chain in the public interest. Previous attempts at a socialist economy were very centralized and planned with a pencil and paper. Massive bureaucratization and stagnation were inevitable. We don't live in that era anymore.
Public ownership is only part of the equation; it must go hand in hand with democratization. There are authoritarian regimes that use public ownership as a way to enrich ruling elites, sometimes in the name of socialism, sometimes nationalism, sometimes both.
In the U.S., democratization starts with rigorous controls on election financing and advertising. That means a popular government does what it takes to transform the Supreme Court and overturn the Citizens United decision. I'd like to see an end to all paid election advertising and instead create many public venues for voters to discuss and debate policy and candidates.
A vibrant, publicly funded, independent media is a critical part of the process. Control of major public media could be elected at federal, state, and local levels. The current public broadcasting system could be transformed into a dynamic well-funded network, with stable arm's length funding. A pool of public funds should available for nonprofit media ventures. Again, this system competes with the private sector but with a budget at least at their scale. Imagine a democratically controlled BBC or CBC.
My point in making these suggestions is not to suggest that I've worked all this out, but to further a discussion towards a vision of what society could be. There are many people working on these models around the world, and theAnalysis.news will create a platform for exploring these ideas.
I know we are far from having a force that could accomplish this vision, but I think imagining what can be will help such a movement grow stronger. Every revolution seemed impossible until a break in the fabric of the status quo made them possible. Are we heading towards such a moment now?
Defeat Trump and Build the Popular Movement.
Covid-19 is shredding the American dream. Will we be ready for the coming storm?