Bret Hart, five times' champion of the World Wrestling Federation, sits in a hotel room – one day before the most important fight of his life. Sure, it's just professional wrestling, but this match is different. It will be Bret's last in the WWF, a company for whom he's been the top guy and loyal champion for years. The owner of the company, the legendary Vince McMahon, want's him out, only months after signing an unprecedented twenty years contract.
Now he want's him to lose his final match as well. It's not just another wrestling show for Bret. This fight will determine how his character 'The Hitman', wrestling's favorite good guy for the last decade, will be remembered. Sitting in a hotel room, one day before the match. What Bret doesn't know, is that he will be the target of the biggest double cross in the history of professional wrestling.
Over the span of one year, an award winning documentary film crew followed Bret Hart. They hoped for an unprecedented look behind the scenes of the WWF. What they got was the most dramatic story in the history of wrestling. HITMAN HART is a story about loyalty and betrayal, money and greed, dignity and disgrace. It's about fathers and sons, fans and icons, and keeping one's integrity in a world of moral uncertainty. In a word, it's a film about being human.
The West Australian – I sat mesmerized. . . mind-boggling.
Broadcast Week (Globe&Mail) – . . . a compelling story masterfully told.
IAN BROWN, writer/broadcaster – . . . it could be the best documentary I've ever seen.
Montreal Gazette – The two best hours to be found anywhere on the schedule this weekend.
Newsday (New York) – one whale of a tale.
St. Louis Post-Dispatch – the end to this two-hour story is a shocker
Star Week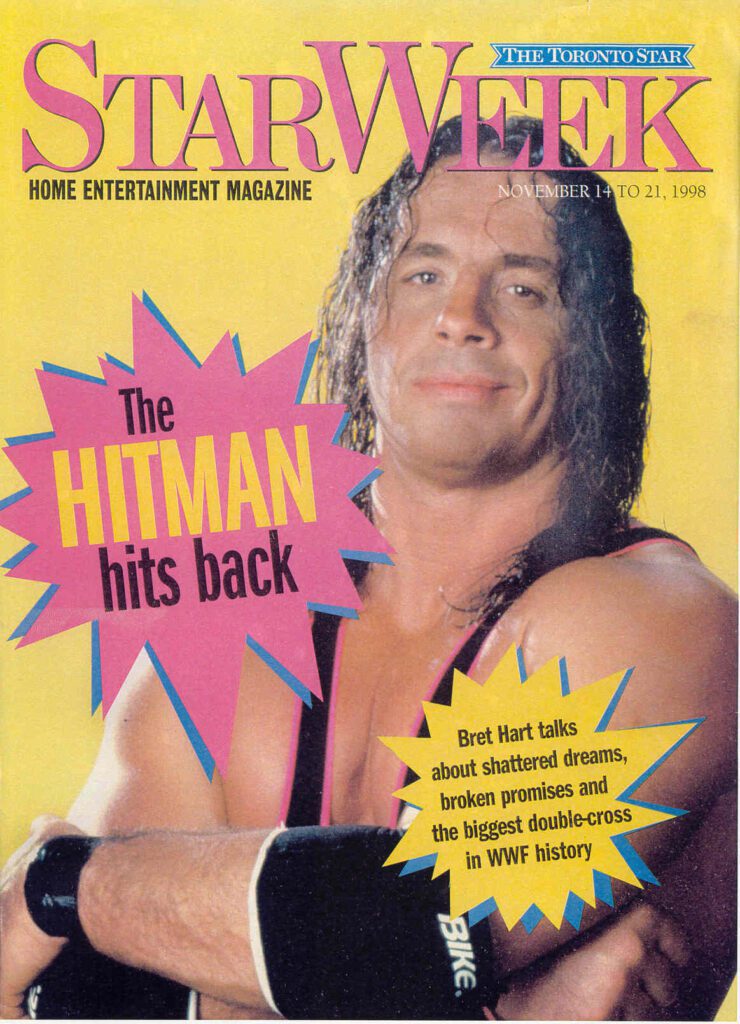 L.A. Times – do yourself a favor and tune in
Hollywood Reporter – an energy that can't be denied
Hollywood Reporter Exclusive – What happened when the makers of an acclaimed wrestling documentary got slammed in a high-stakes cable grudge match?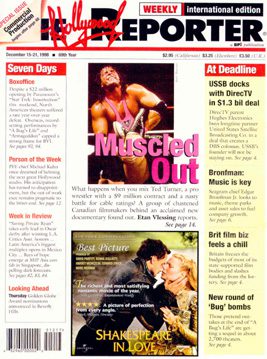 Wall Street Journal – truly a knockout film.
St. Paul Tribune – terrific
Chicago Tribune – astonishingly compelling
Toronto Star review – . . . a finely crafted, feature-quality entertainment, at once character study, action movie, sports thriller and romance.
Ottawa Citizen – a tale as bizarre as Kafka and as tragic as Shakespeare.
Calgary Sun – . . . humanizing
Canadian Press – . . . an insightful look at Hart and his world
Vancouver Province – Frankly, there's not a dull moment in the 93 grueling minutes of film.
Globe & Mail Review – . . . superb documentary
Boston Herald – As gripping a documentary as you'll see.
EYE Magazine – . . . one of the most riveting and highly acclaimed Canadian films in years.

Peter Plagens (Newsweek Art Critic) – . . . one of the best films of 1998.
Renshaw Report – . . a brilliant, riveting, touching and funny biographical study.
Renshaw Top Ten List – The year's best documentary.
London Sunday Times – . . . extraordinary
The Baton Rouge Advocate – a lively and literate exploration
The Guardian (London)
The Independent (London) – . . . enthralling
The Tennessean – a wonderful film, full of suspense, dramatic tension and a strange kind of melancholy
The Village Voice – an improbably enthralling portrait
Hot Docs! 1999 – Best Feature / Best of Festival
Gemini Awards '99 – Winner Best History/Biography Doc.
Sundance Independent Film Festival 1999 – Screening invitation
Slamdance Film Festival 1999 – Special Screening
The International Emmy Awards '99 – Finalist for Best Documentary
Banff Television Festival – Rockie Award winner
Columbus Int'l Film & Video Festival 1999 – The Chris Statuette
Canadian Association of Broadcasters' Awards – Gold Ribbon
U.S. International Film and Video Festival – Gold Camera Award
Nashville Independent Film Festival – Awarded Best Documentary
Bangkok film festival '99 – Screening invitation
Parnu Inter. Documentary Festival (Estonia) – Screening invitation
Rhode Island International Film Festival – Screening invitation
New York Documentary Festival 1999 – Screening invitation
Canadian Society of Cinematographers Awards 1999 – Awarded Best Doc. Cinematography
Worldfest International Film & Video Festival 1998 – Gold Award
New York Festivals '99 – Finalist
Sheffield International Documentary Festival 1998 – Opening Gala
Amsterdam Documentary Film Festival 1998 – Best of the Fest showcase
Sidewalk Moving Picture Festival 1999 – Nominated for Best Documentary
It's All True Int'l Doc. Film Festival Rio de Janeiro – Showcase
Sydney International Film Festival – People's choice top ten films
Australian Int'l Documentary Conference – Best of Current World Docs" showcase
Double Take Documentary Festival 1999 – Screening invitation
INPUT 1999 – Screening invitation
Hot Springs Documentary Festival – Screening invitation
Denver International Film Festival – Screening invitation
X Internacional Doc. Film Festival (Portugal) – Screening invitation