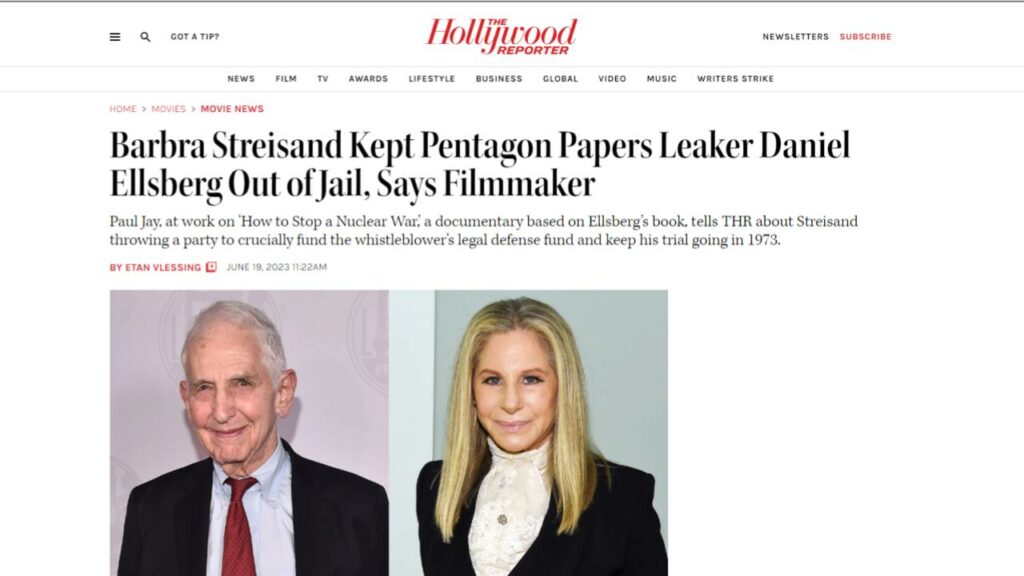 ---

Paul Jay, at work on 'How to Stop a Nuclear War,' a documentary based on Ellsberg's book, tells THR about Streisand throwing a party to crucially fund the whistleblower's legal defense fund and keep his trial going in 1973.
---

Barbra Streisand Kept Pentagon Papers Leaker Daniel Ellsberg Out of Jail, Says Filmmaker

Emma Thompson to Narrate Daniel Ellsberg Documentary 'How to Stop Nuclear War' (Exclusive)
Daniel Ellsberg 'How to Stop Nuclear War' Documentary in the Works (Exclusive)
---

Daniel Ellsberg died on Friday at 92 years after a battle with cancer and barely six weeks after concluding 40 hours of interviews with documentary maker Paul Jay, who is at work on How to Stop a Nuclear War. The feature follows the Pentagon Papers leaker's efforts to raise an alarm about the threat of a devastating nuclear war.
On Monday, Jay told The Hollywood Reporter that the man who sounded the alarm about the Vietnam War was far more concerned for the rest of his life about the United States and Russia planning for a globally destructive nuclear attack that could be launched by accident, or intentionally.
"Dan considered today's world more dangerous than during the Cuban Missile Crisis," the Toronto-based filmmaker said of the Oct. 1962 stand-off between U.S. President John F. Kennedy, Soviet leader Nikita Khrushchev and Cuban prime minister Fidel Castro that nearly resulted in a nuclear war.
To complete his feature documentary, Jay said he finished around 40 hours of interviews with Ellsberg on May 1 as work on his film continued through Ellsberg's illness. The film, which Emma Thompson will narrate, is based on Ellsberg's book Doomsday Machine: Confessions of a Nuclear War Planner.
Ellsberg famously made copies of the Pentagon Papers and classified nuclear documents during the Nixon administration and leaked the documents to The New York Times and other media outlets in 1971. As a high-level Pentagon analyst, Ellsberg was charged by the U.S. with breaking the Espionage Act, but the case was eventually dismissed because of government misconduct in evidence-gathering in 1973.
Jay credits Hollywood actress Barbra Streisand with throwing a key fundraiser birthday party that year to underwrite Ellsberg's legal defense to the point his trial could continue until all charges against him and co-defendant Anthony Russo could be dismissed based on the government's gross misconduct.
"If it hadn't been for that fundraiser that Streisand organized, they [Ellsberg and Russo] would have run out of money, and Dan probably would have spent the rest of his life in jail," Jay recounted.
"In the film, we have him [Ellsberg] telling the story of the party because, indirectly, that ability to keep the trial going and his case getting kicked led to the whole uncovering of the Watergate scandal, which led to the downfall of Nixon, which led to him not dropping nuclear weapons on Vietnam, which I think is pretty clear is what would have happened otherwise," the director adds.
In extensive interviews with the director for the feature, Ellsberg explained the "institutional madness" of American nuclear war plans and how the Russian invasion of Ukraine has made the world far more dangerous, according to a synopsis for the documentary. The documentary will trace Ellsberg's journey from being a Cold War hawk to becoming an anti-nuclear weapons activist, a stance he held right up to his death.
"I think he felt frustrated that he wasn't able to accomplish more, that, in spite of overwhelming evidence, you can't get a serious conversation going in Congress, in the media, with the U.S. President. It's almost like talking about nuclear weapons is taboo," Jay said.
In the feature doc, now in production, Ellsberg warns that the nuclear weapons arsenals of the U.S. and Russia are still very much a threat to global peace and that an all-out nuclear war remains capable of being launched from missile silos or submarines on a few minutes' notice.
Jay says The Barbra Streisand Foundation is among early investors in the documentary, which is currently assembling a rough cut that sales agent UTA can shop to cable TV and streaming platforms for a possible U.S. distribution deal.
Jay, a veteran producer and co-founder of the Hot Docs International Documentary Festival, directed Hitman Hart: Wrestling With Shadows. He will helm How to Stop Nuclear War, while Earl Katz (Hacking Democracy) and Rob Johnson (Taxi to the Dark Side) will executive produce.
He is also the founder, editor-in-chief and host of theAnalysis.news, a news analysis service, and executive produced the CBC television magazine series CounterSpin and the TV series Show Me Yours.